Back to Main Page of The Little Woods




Bookmice - The Missing Teddy Bear (no longer in publication
The WREX Page
Tower of Ivory (Christian Fantasy)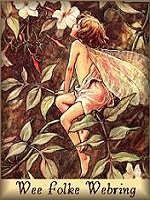 [Previous 5 Sites][ Skip Previous][ Previous][ Next]
ThisRingsurf This Magical and Mischievous Weefolke Net Ring
owned by Tales From The Little Woods .
[Join| Next 5 Sites| Random Site | List Sites ]








Did you know that Amy Brown now has free e-cards on her site?



Thank you for the lovely award Lady Elina


Thank you so much for the lovely award Dreamland Magic
To my knowledge all of the sounds and images used on my page are in the public domain where not indicated by a credit to the creator. If you are aware of any material here that is copyrighted, please let me know and i will remove it from my site immediately.
If you have comments or suggestions, email me at idris@vaxxine.com
This page created with Netscape Navigator Gold
The gifs on this Webpage were from Lady Oh's Favorite Gifs and Pics